"The big theme is fear. We are so uncertain about what we want to do next. So it's really about coming to terms with your fear and saying, fuck it, let's do this shit", Sid Vashi on his starry debut album 'Azuma Kazuma'.
Born and raised in the suburbs of Detroit, Sid had a varied spectrum of influences. His music is an eclectic mix of different genres structured by elaborate instrumentation and accompanied by sparing appearances by his distinct saxophone playing. Formally trained in jazz music, Sid insists everyone should dwell a little in music theory for it fosters creativity. He says, "It's new ways to categorize your expression."
A fan of music first, Sid tries to listen to a different album every day. Currently rocking out to some Beach Boys, African artist Francis Bebey and the new Brand New album – 'Science Fiction'. Sid doesn't shy away from his Bollywood influences and is nostalgic of the over the top, synth driven music of the Burman era. He says, "I never saw it as the establishment music". Given how visual his music can be, it's no surprise that he cites the likes of Mani Ratnam, Vishal Bhardwaj and Anurag Kashyap as some of his favorite Indian film directors.
After returning to India couple of years ago, he channeled his emotions of being an outsider in his home country into a heavily Bollywood sampled EP called 'Motherland Tourism'. But later having felt that it didn't represent him completely, he decided to take it down. He made a rather elaborate return with his extravagant album 'Azuma Kazuma'.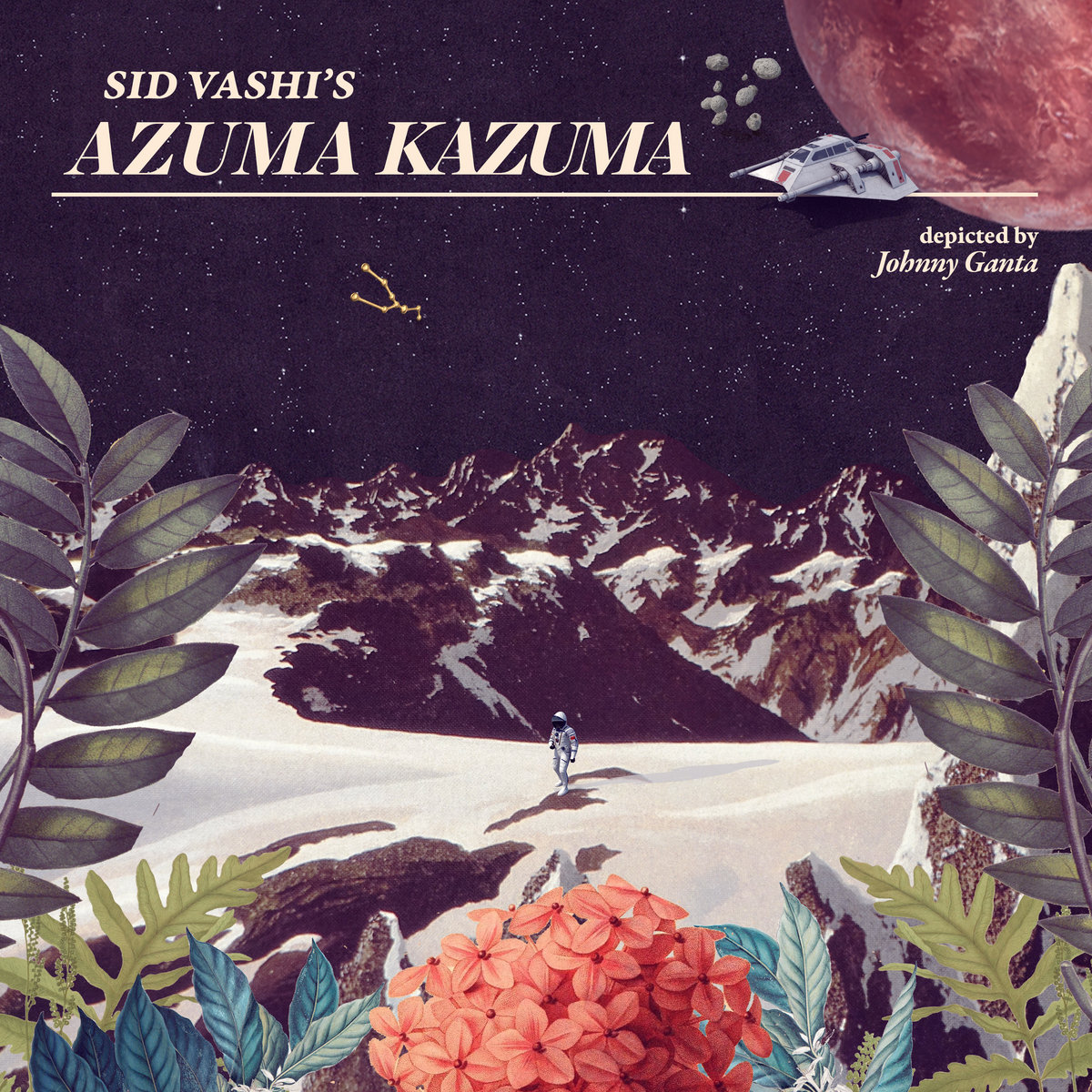 The story of 'Azuma Kazuma' revolves around a prospector in a large space mining conglomerate who undergoes a near death experience and decides to take control of his life. The story mirrors the time when Sid was bed-ridden for six weeks and decided to make this album. The album is two-part out of a trilogy, which shall be completed in Sid's next album. Sid decided to work with visual artist Johnny Ghanta for this visuals to serve as an aesthetic guideline to the entire experience. "He's one of the most inspiring people. He's so creative he's so driven and so interesting to be around", Sid on his collaborator.
Where the album shines is the details in the overall experience. There are minute sonic detail which make the album all the more interesting. "I think of mixes like sonic architectures, you are creating an environment", says Sid on his choice of sounds. Another standout factor would be the use of samples like the iconic vocals from Nicholson's 'For What' on the track 'Paper Bones'. Indie artists rarely do covers or remixes of other acts, but this kind of sampling format has been dominant in hip-hop for the longest time. "That's how you build a culture by being referential within it" , says Sid.
Given how geeky the Azuma Kazuma story is, it comes as no surprise that Sid happens to have a degree in neuroscience and philosophy. He makes no distinction between his artistic and academic side and embraces both wholly. He says, "I think all explorations, academic or artistic, are ultimately trying to determine what is true."
Sid also is a part of Salvage Audio Collective which is group of producers  who provide audio solutions for several commercial and indie projects. Sid says it really helps him try different things. He continues, "I see other projects as an opportunity to be a sonic chameleon."
It's been three odd months since Azuma Kazuma has released, but Sid doesn't feel the pressure to put anything out. Besides the conclusion to his debut album, a possible reinterpretation of 'Motherland Tourism', Sid plans to drop couple of remixes and B-sides of Azuma Kazuma. With the festival season  around the corner and couple of DJ sets along the way, it's pretty safe to say that this space boy is ready to go to infinity & beyond!
Thank you for reading! If you want to talk about a band you love, or a band you think everyone should know about, please leave a comment or send in your mails to
. You can also mail us if you have any articles you'd like to send. To see more cool stuff like interviews, album reviews, release updates and lots more, stay tuned. Connect with us on Facebook, Instagram and Twitter.